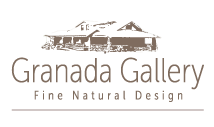 Spanish born artist, Amador Braojos, began his career training as a goldsmith in Madrid. Learning the art of sculpture, he soon established
his own studio where he started to combine jewelry design with sculptural elements. In 1967 he founded JADE (Joyeros, Artistas y Disen-dores Espanoles) with the aim to promote and develop new ideas on the jewelry and sculpture stage.
Artisan Made Gemstones – Jeremy Sinkus
"The next gem material to revolutionize the jewelry and design industry." Jeremy Sinkus is the creator of these unique Tourmaline and gem replicas made from borosilicate glass. Functionality is important to his work and in this theme we will be featuring stunning glasses, decanters, bottles, bowls and more from AMG.
"In my artwork, I try to express the dynamic form of growth and symmetry encountered in cells and tissues, as well as in whole organisms throughout the natural world." Holding a Doctorate in Biology, Mark Doolittle now creates fine art vessels aimed at displaying the natural beauty and character of wood, emphasizing fissures and voids in the wood with turquoise inlay.
The Granada Collection is a carefully selected, exclusive assemblage of the most valuable natural treasures and unique creations of fine natural design. Our collection provides the appropriate framework for worldwide one-of-a-kind objects that span the gap between geological relevance and contemporary design. From the areas of gemstones, fossils, sculpture work, jewelry and interior décor, these rarities stand out amongst the rest.
Renowned artist and sculptor Hendrik Hackl is fascinated by prehistoric life. His works are creative depictions of moments from evolution, reawakening the past uniquely in the middle of our pulsating present. The humorous and lively contrast is Hendrik's trademark and a driving force in his work.
American designer Brenda Houston has long been captivated by the allure of gemstones, fossils and minerals, and in her contemporary tables, lighting, wallcoverings and decorative accessories, she gives them pride of place. We are pleased to present her beautiful designs within our gallery.
KONSTANTIN SOYFER's ammonite Tiffany Lamps are the result of a beautiful blend of artistry and engineering. Realizing the challenges of incorporating ammonites into stained glass, Konstantin overcame the obstacles to create something entirely unique and magical. These complex and fascinating designs cast an enlightening glow to every room.