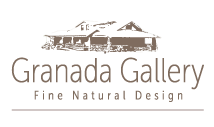 Gemstone Jewellery for Connoisseurs: Each one of Leën's objects is dedicated to modern craftsmanship and outstanding quality. A combination between top-grade gemstones and wearable contemporary art. Jochen Leën & Interprospekt combine their mutual vision by bringing the best loose gemstones & jewellery in the market on a global scale.
An exceptional goldsmith and designer, Zoltan David has received widespread recognition for his mastery of the jewelry arts. His work has
garnered over 30 national and international awards as well as permanent display status in some of the most renowned museums in the country. His innovative use of gems and metals sets him in a category of some of the most collectible jewellery in the world.
The "Granada Collection by Zoltan David" is a collection specifically created in honor and recognition of the Granada Gallery and its important position as a leader in exceptional and rare art and artifacts.
Somewhere between finest craftsmanship and art, one can describe Naomi Sarna. The recipient of 23 Spectrum Awards in both gem carving and jewellery design, her work melds metal with fluid natural forms. Naomi has created pieces that are represented in the Smithsonian's permanent collection of American Gems and Private Collections.
Tini Courtney is a multi medium artist and jeweller based in Venice Beach, California. Her one of a kind and timeless works of art are a reflection of her uniquely independent spirit and are an extension of her fruitful nature. Most days you can find Tini at her Venice studio, HOWL, making her magic or holding court with friends, old and new. Her work is on permanent display at Art Basel in the Wynwood Walls and at the Inscape Meditation space in NYC. She has been featured in Vogue, Harper's Bazaar, the New York Times, NBC, and Haute Living.
The Granada Collection is a carefully selected, exclusive assemblage of the most valuable natural treasures and unique creations of fine natural design. Our collection provides the appropriate framework for worldwide one-of-a-kind objects that span the gap between geological relevance and contemporary design. From the areas of gemstones, fossils, sculpture work, jewelry and interior décor, these rarities stand out amongst the rest.
Swiss Bernina is focused on the finest and most detailed luxury jewelry and works closely along the most renown designers. Perfection in quality and design is the quintessence of Bernina's jewelry, but the desire to suite and match the customer's desire and needs leads to the offering of bespoke jewelry.
Described as a "jewelry artist with an eye for life." Llyn works with natural-colored gemstones, precious metals and inspirations around her to create unique, timeless pieces with a distinct artistic touch. Her jewelry designs embrace the techniques and traditions of the ancient and recent past, while using cutting edge technology and software to turn art into life.
"All of my artwork is a translation of experiences and observations I had in the natural landscape and its elements."
Born in Namibia, Wolfgang Vaatz is working as a jewellery artist since late 2012. In 2017, his Aspen inspired cuff was selected as finalist in the Saul Bell Award Competition. The natural gold he uses is unrefined placer gold. Placer gold is gold which is eroded from its host rock and moved by water to different deposit locations.